Lovett Dental Gulfgate provides periodontal treatment by an ADA accredited dentist that completed two or more extra years of postgraduate training to become a board-certified periodontist. These dental specialists are tasked with diagnosing, treating, and preventing different forms of gum disease. Not only are our dentists trained in the latest techniques to treat gum disease, but they can also perform cosmetic dental procedures that include dental implants and restorative procedures like crowns and bridges.
Causes and Symptoms of Periodontitis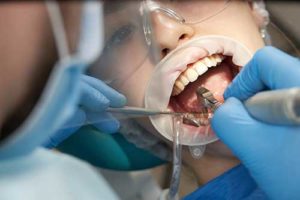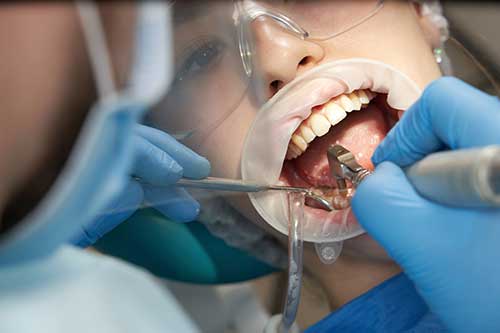 Periodontics is also known as gum disease. It is actually a serious infection of the gums that will damage soft tissue and destroy the bone structure of the mouth. When this happens, the patient's teeth will begin to loosen, and gum disease will eventually lead to tooth loss.
There are many causes of periodontitis, but it will generally start with a sticky film build-up that also provides a breeding ground for bacteria. This plaque build-up can worsen until the patient suffers gum disease and failure of one or more teeth. Therefore, something as simple as poor dental habits such as not flossing or brushing daily can start the progression from plaque to gum disease.
Untreated plaque buildup can start with symptoms of gingivitis, a mild form of gum disease. Gingivitis will cause gum irritation and inflammation of gum tissue surrounding the base of the teeth. At this point, further progression to periodontitis can be prevented with professional treatment and good oral care.
When left untreated, plaque will harden beneath your gum line, creating a hardened substance called tartar. Tartar buildup makes it difficult to clean food and bacteria away from the gum line. Many patients will start experiencing the early signs of periodontitis, chronic inflammation of the gums that can also strain your immune system.
Periodontal Treatment and Other Risk Factors
Several lifestyle issues and nutritional deficiencies can also aggravate the untreated gum inflammation that causes periodontitis. These include:
Untreated gingivitis and poor oral habits
Chewing or smoking tobacco
Medications that cause dry mouth
Obesity or genetics
Poor nutrition, including vitamin C deficiency
Treatment starts with choosing a periodontist that has experience treating moderate to severe levels of periodontal disease and patients who may also have other medical issues such as diabetes or a compromised immune system. Your dental specialist will review your medical and dental history. They will also examine your mouth for plaque buildup, excessive tartar, and bleeding gums.
An examination of your dental X-rays will show any bone loss due to untreated gum disease. This is accomplished by looking at your teeth's pocket depth, which is the groove between your teeth and gum line. If the pocket depth is greater than 3 or 4 mm, this may indicate periodontitis.
Treatments for Periodontist
Partnering with a dental service provider like Lovett Dental Gulfgate provides a periodontist that can determine your treatment options. When paying for these treatments with your insurance plan, you may need a referral before you begin seeing a specialist. Depending on the severity of inflammation and the amount of pocket depth, you will have multiple options.  Common treatments in which periodontists specialize include:
Scaling and root planing (in which the infected surface of the root is cleaned)
Osseous surgery (periodontal pocket reduction)
Gum recession and tissue grafting
Crown lengthening
Regenerative procedures, bone graft, and ridge augmentations
Placement, maintenance, and repair of dental implants
Treatment plans differ from those who are in the first stages of periodontal disease. Here the patient is experiencing gingivitis, a receding gum line, and bad breath. The second stage is the beginning of periodontitis, where the gums may appear bright red and swollen along with loose teeth and visible gaps that show bone. It is vital to contact Lovett Dental Gulfgate at 713-847-8822 to schedule an appointment with a periodontist in the disease's early stages.